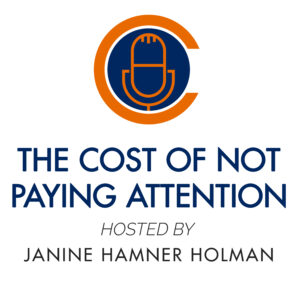 Science reveals that up to 90% of what we do and say happens through unconscious thoughts and actions. Can we be more effective by doing more consciously?
Welcome to The Cost of Not Paying Attention!
Hosted by Janine Hamner Holman, this podcast will lean into the places where – by paying attention – we can reap significant rewards! From the exploration of neuroscience and the unconscious bias to the impact of culture on the bottom line of companies, we'll investigate the things that we don't typically see. By expanding our focus, we can pull from opportunities our subconscious and into our consciousness so that we can make better decisions, be more productive, and build the kind of lives, organizations and society where we can all thrive. A trainer and leadership talent developer, Janine is a seasoned professional with more than 30 years of experience in organizational development and change management built through working with all kinds of organizations, from Fortune 200 companies to local non-profits.