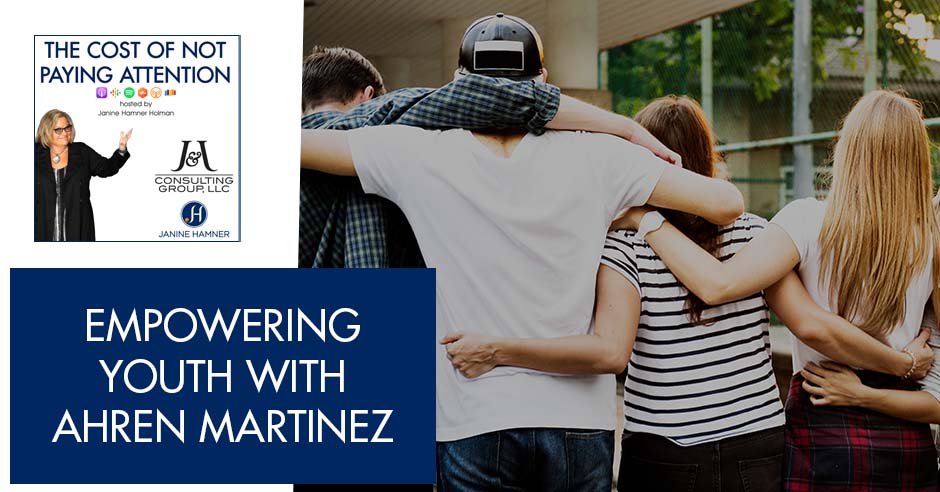 Do we connect with people well and show our true selves? Figuring out who we are is a life-long mission, and it can be an incredible ride! Janine Hamner Holman sits down for a conversation with Ahren Samuel Martinez about empowering youth to ensure they have all the resources and opportunities they need to feel supported and encouraged. Ahren is the Diversity, Equity, and Inclusion Coordinator at Fuller Youth Institute. In this episode, she shares in-depth insights on the importance of cultivating growth, development, and creating a harmonious space in bringing our joyful and authentic selves. She also explains equity in race, gender, and socioeconomic status. Tune in for more!
GUEST:  Ahren Samuel Martinez | LinkedIn | Visit their Website: Fuller Young Institute
HOST: Janine Hamner Holman | [email protected] | LinkedIn, Facebook, Instagram, and Twitter |
—
Listen to the podcast here
Empowering Youth with Ahren Martinez
And What About Young Adults?
What am I paying attention to? It's all the things that live on the unseen. Sometimes we're going to a big meeting at work and we start with an icebreaker. Sometimes the icebreaker is some version of two truths and one lie. There are two things about somebody that are true and one thing that's not. Everybody else in the room who thinks that they know this person has to guess what which is a lie.
I am working with a couple of big organizations: the County of San Diego and the United American Indian Involvement. I was asked if we could do icebreakers so that people can get to know each other better so that is what we have done.
It has been interesting finding out all of the things that people who have worked with each other for years and maybe even decades didn't know about their coworkers. Coincidentally, there is something I did not know about today's guest that I will share with you after I introduce her. I am going to geek out about it because it's a super cool thing.
Ahren Samuel Martinez is a diversity, equity and inclusion engagement champion. She is a bilingual advocate, an educator, a mentor and an author. Her passion is working with marginalized teens and making sure that they have all the resources and opportunities they need to be empowered, encouraged, and supported.
Ahren was always taught that one who learns must also teach. Therefore, she feels like it's her duty and mission to work with and empower marginalized youth and communities because she has quite an education. Check this out! She holds a BA in International Relations with a minor in Spanish and Latin American Studies from Spelman College. She also has a Culinary Arts degree from LA Trade Tech College and a Master's in Intercultural Studies with an emphasis on children at risk from the Fuller Theological Seminary. Welcome, Ahren!
Thank you so much, Janine. I have the chills. That was the best introduction ever. I'm honored to be here.
You're welcome. I am thrilled to have you here for many reasons. What we're going to talk about next is the least important reason but it's fun nonetheless. I was blown away when I saw it. Here's a little bit of backstory: my husband Jonathan and I first met ten years ago.
We met online through a dating app and, because Jonathan is also a smartypants, he went to Caltech as an engineer. He had figured out that women would be interested in a man, especially a Black man, who knows how to cook. He had all these pictures on his profile of him cooking and, smart fish, he hooked me. When we first started dating, he would make my meals.
Jonathan is a very good cook and he loves to watch competition cooking shows. I thought that his love of competition cooking shows was about cooking. It's not. His love of competition cooking was about the competition. If there was a way to make paint drying into a competition, he would watch it. I don't see my husband on the weekends because he's watching every sport that has ever been invented on television. He watches everything from ping pong to NASCAR racing. In any case, when we were getting to know eachother, I was convinced that Jonathan loved cooking. It turns out he does not. He would prefer never to cook a meal ever. Mostly, I do all the cooking.
I just learned that you got to participate in The Great Food Truck Race with Tyler Florence which is one of my husband's favorite shows. How was that? It looks pretty grueling.
It truly was. It's the craziest and probably one of the greatest things I've done in my life outside of getting married.
It is such a cool thing!
We were on season four which was years ago. The show has gotten much cooler. It's a seven-week show and we were on the road driving that whole time. Every week we drove multiple days and worked. There was The X Show. They said, "It looks crazy but it's so much fun." It was fun but we got one day off a week. It wasn't like we were partying it up the whole time but as people get eliminated, the hotels get nicer. That was great.
Joy and authenticity are the zest of life.
Click To Tweet
You started at Motel 6 and ended up at the Hilton.
Yes, we made it!
What was the theme of your truck?
We were the slideshow truck. We made gourmet sliders, fries and sides. We were the LA team because there's always a California team. The theme was a slideshow. We had movie slides on the side of our truck and the Hollywood background in the back with the letters. It was playing on the LA theme. It was a cool truck.
Who were your two teammates?
I was with my chef mentor. He's like family to me. Chef Darrell Smith is a chef in the industry still. He's doing some incredible things. Years ago, I was finishing my culinary program. I was a sous chef for him and his restaurant in West Hollywood for about seven months. He has also been on The Next Food Network Star.
I've seen that show too!
These are the classic Food Network shows. They're staples on that channel. They called him to be on the show. He did not audition, which was cool. The first phone call he made was to me, "I want you to be on the team with me." The other person with us was his friend Maurice with whom he had also cooked before. I'll never forget the day he called, I was driving though I don't remember where I was going. I was on the phone and I kept driving. I thought, "I don't know where I'm going but I'll do it, and I will find my way back. This is the coolest thing." It was so much fun!
How far did you make it through the seven weeks?
We got third place. We went to many random places like Pocatello, Idaho and Rapid City, South Dakota.
They were places you would never have been.
I love Minneapolis though. That's where Prince's house is. I love Prince. We went to those places. It was truly incredible. I'm so grateful for that experience. It was amazing. Thanks for that.
Thanks for letting me geek out on my husband's behalf. Let's get into a little bit of the meat of what you do. You co-wrote a wonderful piece that is about helping young people understand and get their arms around the world of diversity, equity, inclusion and belonging. That came up because of your work at Fuller Seminary. Is that correct?
Yes, it's because of my work at Fuller Seminary, particularly my work with Fuller Youth Institute.
Tell me a little bit about Fuller Youth Institute.
Fuller Youth Institute is the nonprofit arm of Fuller Theological Seminary which we call Big Fuller. Fuller Youth Institute does a lot of research and turns that research into resources. We put out resources for nonprofits, churches and faith-based organizations for how to better work with routine disciple youth in their youth ministries and youth programs.
We have many grant-based projects that we do with different churches all around the US and some internationally to help these organizations with their youth programs. We had one project in particular called the LABS project which stands for Living a Better Story. We have 15 churches in California and 15 in Chicago. There are two different cohorts. We did a huge interviewing process for what we called Wakanda Ministries from Black Panther. We called them Wakanda Ministries because we wanted to find different faith-based and non-faith-based organizations plus different spaces all around the US doing amazing work with young people. We found coffee shops doing amazing work with young people in art spaces and art stores that have amazing programs with youth and teach them how to do murals and all of that stuff or unique things that we can take from and work with them. We interview them.
Joy and authenticity are things that can be so missed within the workplace.
Click To Tweet
We have a few video projects that we have done with them that we take back to our churches. These are the different things that people are doing all over the place that you could use and take into your churches and your organizations to better serve your young people as well as young adults. There are not a lot of programs, especially in the church for young adults or emerging adults in the gray area, ages 25 to 34, who are out of college and single.
Where is our mentoring? Where is art pouring into? Where does that lie? That's also a grant project that is starting. One of my colleagues created a book called Young Adult Ministry Now which is all about what we do to help that community or the older young people that are in that gray area stage that isn't always focused on. You're not pouring into them. You might say, "How are you going to help the high schoolers?" They might respond "We're still trying to figure out who is going to help us. Can I have a hug?"
I have two goddaughters whose mother, a good friend of mine, unfortunately, passed away. 
I'm so sorry.
Thank you. These young women are 18 and 20. Both of these girls are young Black women who were adopted, one as an infant and one when she was five. They are biological half-sisters. The adopted parents are White and they decided to create an intentional community of mostly people of color and me. It has been amazing. This community was created around these girls years ago. With the death of their mom, this community has been rallying around the girls and helping them both mourn the passing of their mom and also think about their next stages in life.
One of these young women is close to her dad. The other one, unfortunately, is not. There has been a lot of work among the actual adults, "How do we help this young woman who's eighteen and legally an adult but who is nowhere near ready to be adulting?" It has been an interesting opportunity to look back on the phase of that life for myself and think about how incredibly ill-prepared I was at 18 and 20. Thankfully, I had parents who were still alive.
One of the wonderful things about having parents who live a long life is they get to see all the different phases of their children as we grow and evolve. Figuring out who we are and what we're up to is a lifelong mission. Those of us who are lifelong learners and are curious and always interested in learning are perpetually in the process of discovering who we are from age 18 to our early 30s.
I was ten years old by the time my mother was 34 but now, people are often waiting to get married and have families, which is a great plan, because we're still changing and evolving so much during those times.
I love that part of your focus is that young adult period when we're still so much in the discovery. How did that become included as a focus? Usually, when we think about young people, we think about people who are younger than eighteen or maybe college aged. How did that get expanded?
I have to give credit to my colleagues, Steve Argue and Caleb Roose. That was truly their dream child and baby. Steve Argue is an incredible professor at Fuller Theological Seminary and also a research strategist at Fuller Youth Institute. Youth ministry is his jam. That's his baby and his focus. That's what he teaches at Fuller. He teaches a lot of PhD and Master's-level students about those things. They are wanting to address the true gap and blind spot in those age groups because we see that there aren't spaces or even names for that group in churches and organizations.
It's always the singles group, the married group and the high school students. There's everyone else in the gray area that's like, "Figure it out." Even in doing research and trying to see the LABS project I told you about, it's easier to find programs for what people are doing for high school students or younger people all around but it's like, "What are you doing for this age range or the 20 to 34-year-olds?" It's so much harder to find where these places are and what people are doing.
I'm on this grant project with them as their DEI-focused person. I'm trying to help them synthesize and disseminate where people are doing this work, especially people of color because if there is any research, it's mostly on White spaces or it's not very focused. It's more on a broader meta basis. It's difficult but it shows the need for that research and the need within the community to truly have more community and mentorship for younger-older adult people. It's so awkward. They're emerging adults.
We don't have a name for this yet.
There are so many words. It's for those who aren't doing those things.
I have two biracial stepsons. One is 28 and one is 30. They're both in that gray area. Neither one of them have yet truly figured out what's up. As it often happens, these are very different young men. The kinds of resources that would be useful and helpful to each of them would be remarkably different and be of enormous service.
If you're not married, not in college or not getting your graduate degree, PhD or what have you, you're not doing those things but you still feel like you're happy and living your best life or whatever that looks like. You may say, "I should be doing those things because there are groups for those people. Am I doing something wrong?"
We continue to learn more about humans and the way our brain works. I got interested in neurobiology years ago. It's fascinating! One of the things that we don't think about with humans is that we are animals like all of the other animals in the world. We do have the gift of language and bigger brains but we are herd animals.
This idea of belonging and where we fit is so important for us at every stage of our growth and development. One of the things that is great about the DEI movement is that it has expanded. It's DEIB or Diversity, Equity, Inclusion and Belonging.
I remember very clearly. I was 25 years old, living in New York City in the late 1980s. New York City is still a hard place to live in terms of economics. I was living in a one bedroom apartment with two other people. We were in South of Houston, East of A. If you know New York City, that's a very cool neighborhood. In the late '80s, it was still quite rough and tumbled but it was the only place that we could afford to live: a one bedroom apartment with three people.
We should be able to bring our full selves to any space that allows us to get to know our fellow colleagues or our other people around us better.
Click To Tweet
I remember on my 25th birthday having people talk about a midlife crisis or a whatever-crisis. I had my 25-year-old crisis, which is the only one I've ever had for which I feel quite blessed. I had this feeling, "25 is a grownup age," which is what we think when we're 25. Looking back, that is not a grownup age but when we're 25, we think it is. I thought, "This is not how grownups live. Grownups don't live with three people in a one bedroom apartment and bookcases made out of cinder blocks and plywood."
That's not how grownups lived until I ended up moving back to Boston. I grew up in Cambridge, Massachusetts and moved back because I thought, "I need to create a different life for myself and have a different place where I can find that I belong." When you think about belonging, one of the things that you are also passionate about is cultivating joy and authenticity.
Given that we are recording this interview on Zoom, I can see you, Ahren. If you are reading this and want to be able to see us, you can go to Patreon, find our page, pay a little bit of money, become a supporter of the show, and see the video. When I say the words, "Cultivating joy and authenticity," there was a shift in your face. Tell me what these words mean to you. Why is cultivating joy and authenticity important to you?
Joy and authenticity are truly everything to me. I get the chills whenever I talk about joy and authenticity because I feel like it is the zest and the importance of life, especially as an African-American. As a Black woman, I've written on Black joy specifically as resistance and how important it is within our daily lives to cultivate that for sustainability and our day-to-day because the world can be such a hard place.
We need joy in our lives to keep going and see the beauty all around us in the midst of all the pain, suffering and things that can bring us down as people, especially as people of color. I think about that too in the workplace because when it comes to joy and authenticity, those things can be so missed within the workplace and pushed aside because it's not seen as important. People think and say, "We're not here to do that. We're here to work." That's counterintuitive and reductive in my opinion. There are so many levels to that in the workplace. We can talk about this for days.
It was in 2021 or 2020 before at maximum that the rule was passed that Black women were able to not be discriminated against for their hair in the workplace. I immediately think about that because I think about Black women and people of color thinking about being our fully authentic selves when we go to work. If we feel like we have to curtail that and conform that to a White normative lens, "Professionalism," we're supposed to put our hair back. It's supposed to be straight. We wear our little studs. They say, "Tone it down to make someone else feel more comfortable."
That is such bullshit. As a White woman, I can think of all the times in my life when I have been told, "Tone it down," and how that impacts me but I still have all the privileges that come with being White and a woman who was being told to tone it down. When we think back culturally to the 1970s when you weren't yet born, Afros were a big deal. Lots of people had Afros.
It was a little bit connected with the Black Power movement but it was also connected with the African-American experience. Men and women had Afros. Young Jewish kids had Afros. Anybody with hair with texture in it had big hair. At some point, I don't know what ridiculous thing happened. Something happened. It became no longer okay, "This is what it means to go to work and this is what professional people look like."
In reality, we all had to shift. The shifts that were imposed by the dominant culture on people of color were much more significant, severe and crushing to authenticity and belonging. That's part of what is so great about this reemergence around belonging and authenticity. Joy and authenticity are so enmeshed. We cannot be truly joyful if we are having to code-switch and are not able to express who we are.
I saw this woman walking down the street towards me. Her hair was a magnificent work of art. It stood out ten inches or more from her head. It was this color not found in the natural world. It was stunning. It was a collection of golds, reds, blacks, browns and all these different colors. I wanted to say to her, "Your hair is magnificent." With all of the crap that exists in the world around Black women's hair in particular and all of the White-Black things and all of the White women-Black women, I didn't say anything.
I wanted to touch her hair because, as humans, we have an instinct to touch something that we think is beautiful and different. If we see a pregnant woman in the grocery store, we want to touch her belly. We rein in that input. It's an expression of curiosity. When we were little kids, we wanted to touch everything and stick it in our mouths. I had to reign in that element of curiosity because White people don't go around touching other White people's hair. That's a ridiculous idea.
Touching somebody else's hair is getting into their personal space. It's a ridiculous thing like touching a pregnant woman's belly. I wanted to say something to honor her beauty, magnificence and hair. I didn't because I didn't know how it would be received and I didn't know what the right thing to do was. That's one of the tricky things about living at this moment in time.
For those of us who were paying attention and for whom it's important to honor the authenticity of other people and the lived experience of other people, language is so formative and important. We don't want to say the wrong thing. I was told, "You can't refer to something as a bullet point because it can be triggering." My response was, "That's interesting. I can see that."
It's also tricky to know where it is important to be careful of our language and do everything that we can do to not trigger a response in somebody else. Where do we need to find a new language? If we're not going to call it a bullet point like we don't have a language for that period of ages between 18 and our early 30s, then what do I call that little dot? That's what we have been calling it. What's our new language around that?
We are sometimes getting hung up on being afraid to create joy too. If I could have said to that woman, "You are beautiful. Your hair is magnificent. Rock on with your best self," that would have made her happy. It would've made me happy to be able to honor her but I got caught in that fear. I lay that all at your feet. What are your thoughts in all your brilliance about this challenge that we all face?
That was such a beautiful framing. I so appreciate that story because it is the fear that we have of all the language, the controversy of everything and all the isms that have always been in our world but are so much more pervasive that keep us from having authentic relationships. We need to learn from other people. Women uplifting women is the most powerful thing. It's such an amazing thing that needs to be done more.
What gets missed with the fear is that when we're able to bring our full selves to any space, that allows us to get to know our colleagues or other people around us better. It helps them to also bring their fully joyful authentic selves. When they see you doing it, it's contagious. When that's brought to the table in whatever level or form that you're able to, it opens up so much space to create more conversations and understanding. If we're all being ourselves and creating space for mistakes, that's such a vulnerable good time to talk about it. Safe spaces are created. They have to be earned.
It's hard to come out with that not knowing someone but in bringing all of that to the table, you start to create and form relationships. That is a way to dispel the fear, create more understanding and push all the bullshit to the side. You start to feel more comfortable and say, "I am going to compliment her because she is gorgeous. I love her hair. She needs to know it no matter what." That's it. To eradicate that fear is through being able to be yourself and feeling safe enough to do so. When we have all these rules and stuff placed on us, we're not going to be accepted.
We're just all being ourselves and we're creating space for mistakes.
Click To Tweet
If we have a nose ring or we walk in and our hair is a different color, you're already like, "I'm going to put my head down, do what I need to do, say as little as possible and get work done, whatever that means," versus finding time for me to be myself. Whatever that looks like, I would never work for a space that wouldn't allow me to have my nose ring or say, "You can't do this or that." When you know that everyone is on the same page, at least we're all coming into this as each other. That creates more space to create better understanding and a more harmonious space.
Part of what you're pointing to is this idea of grace. We get to choose to have grace with each other and ourselves. If we say the wrong thing, we get to own that and apologize if we trigger somebody else unintentionally. They get to hold us in a place of grace as well and an assumption of positive intent. Collectively, we have a way to go in the creation of that. I love what you're pointing to.
Had that event on the street all gone differently and I had taken that opportunity to be courageous, which we take that opportunity in our lives in all kinds of ways, it would have been an opportunity for me to be vulnerable. I can comment on any woman's shoes and not think about it as long as the comment that I'm making is positive like, "Cute kicks. I love your boots."
With the conversation happening around the hair at the moment, I remember a time I dyed my hair a crazy color of orangey red. The big boss in our office came into a meeting that I was in. He was startled. It was a little bit more of a crazy color than I was intending it to be. He had a reaction and I said, "I know. It's a thing." There was no element of shame, having to codeswitch, hide and feel like, "I better pull it back and wear a hat until it all either mellows out or grows out."
That is a gift that can be, should be and must be extended to all of us. As frequent readers know, I'm a woman who has struggled with my weight my whole life. Being a heavier human in the United States of America as a woman is not okay. I am often made to feel like there is something wrong with me because of my physicality, having nothing to do with who I am as a human.
I think about what that pain is like and then what the pain is like for women of color and Black men who have been marginalized. In a way Black men have a very different experience from the way that Black women have been marginalized. And then there is all of the things that are said about Latino women, Asian men and people who are gay, lesbian or transgender and all of the "othering" that we do!
Here's one of the things that I long for and I am aware that we are yet far from achieving. I was talking with a Latina woman about some of these realities. She was talking about the Olympics of pain and how we can often fall into, "My pain is more important, deeper, more meaningful and bigger than your pain," and what our opportunity is to move through that.
We have a lot of work to do to honor people's pain and experience and then move through it, not beyond it and not to pass it by, to a place where everyone's pain has value. Ultimately, what we're talking about is not our pain but our belonging, authenticity, opportunities for joy and what makes our life meaningful. We grow in times of pain and struggle. That's not what makes our life meaningful. Do you have any thoughts about all of that or ideas around how we honor people's experiences and move through them?
It's important to honor each other's pain. I love how you talk about not moving past it or blowing over it but moving through it. It's important to center voices and listen to them. Storytelling is so important. It's such a beautiful way to learn from each other. I write about that in the guide that we talked about with my incredible colleagues, Jennifer Guerra Aldana and Kat Armas. We talk about how storytelling is important to learn from each other and also to be able to recognize blind spots we may have not had before and learn about different cultures, ethnicities and experiences.
I will talk about table fellowship all day. I'm a chef, so food is very important to me but it is such a beautiful and sacred experience to be able to story tell through the good, the bad and the ugly and to do that over food, to share a meal. It's such a healing act to listen and learn collectively. That's a symbolic and beautiful act to be able to listen, move through things and make it a consistent practice because that's how we learn and heal.
In the midst of moving through things, we need to listen and heal. That's how we grow together. That's important. Storytelling is often overlooked but so underutilized. That is truly one of the things that I shout to the rooftops in terms of listening, learning, working with youth and doing all of those things. It's that storytelling element that I feel is important to utilize within this work.
It's the power of stories and the stickiness of stories. Stories are so much stickier in our brains. It's so much easier to remember another person connected to their story. I did a great episode about storytelling, the power of storytelling, connecting and also the negative impact of storytelling when we tell ourselves stories and makeup stories about somebody else or our experience, "This happened because fill in the blank." We live in that story as though that is the truth.
In Episode 25, I told a piece of my story about how I have lived into some of those stories about myself as though they were true and the negative impact that had on my life. Both the positive and the negative aspect of stories is such a great way to connect, especially when you're dealing with younger people. Stories are so great because we know how to tell stories. We grow up as little people, often hearing stories and having stories told to us and bedtime stories read to us. We hear stories in school. There's so much storytelling for young people.
I'm going to take that idea back that it's especially helpful when we're dealing with young people because when I read that story about you, I was like, "She got to participate in The Great Food Truck Race." That's such a cool piece of your story. With my husband, me and all kinds of other things that I'm not even consciously aware of, I was immediately even more connected to you and your awesomeness, beauty and brilliance than I was before because there was another point of intersection. The best ways that we find those are through stories.
It does exactly that. We find these similarities in each other but we don't know it until we talk more and find out more about each other. We find out similarities and differences. We find out that we have so much more in common too than we know sometimes. The beauty that creates in someone with whom you may have never had a relationship, or for whatever reason, creates such a beautiful connecting point. That was such a perfect example. I shared that and we didn't talk about that prior but I thought, "She's so excited." I love that so much. It's beautiful. It's storytelling doing its thing in real-time.
We think back to these important TV shows as iconic in changing a cultural conversation. Think about Will & Grace and how that show helped change a cultural conversation around what it means to be gay. You think about Archie Bunker, All in the Family and then the shows that came out of that, like The Jeffersons. Suddenly, for mainstream White America, it was like, "I like those characters or people. They're not that different from me."
An important cultural shift happened in the 1970s. I am curious. I'm not sure that anything is happening. In part at both of those times, Will & Grace was probably still happening when most people didn't have 800 channels. All in the Family and The Jeffersons were happening when people had three, four, or maybe only two channels. Are there iconic things that are pushing society in the ways that those had the ability to do?
There are shows. I think about The L Word and the trans experience. There are so many different shows that are about the Latino experience, the Black experience and the fill-in-the-blank experience. In some ways, the world of television was so much smaller back then. Everybody was watching those shows. There were no other options. Are there cultural touchstones in your work with young people, emerging adults or your experience that would be great resources for people?
When you say cultural touchstones, it's like what we were talking about with the shows, staples and cultural moments. It's funny that I say this because I didn't watch all of it. I saw one or two episodes but Insecure with Issa Rae. That has been one of those icons showing the experience of Black women in that truly insecure age range for Black women living in that space. That's my first thought on that. There's so much. It was so easy back in the day when you had twelve channels. Now, we have all the streaming services and everything.
Here's my other immediate thought. This is not a TV show but it is such an incredible show to watch as a cultural moment and understanding while at the same time being classic is High on the Hog on Netflix. I don't know if you've heard of it but it's an incredible show about the history and the present day of African-American food in the US and where certain staples come from. For example, okra came from Africa. It's how Black people use food when they were enslaved to feed themselves and their families, the soul element of that and how it came to the US.
It's a docuseries. It is probably the most incredible docuseries I've seen on food, especially Black cultural or African-American food and the journey that it has taken to where it is. It is powerful stuff. Those are the two things I think of immediately but when it comes to youth ministry, culture and things, here are all of the resources I suggest although they aren't exclusively for youth of color but for youth leaders, parents and youth ministry in general:
Discipling Todays Teenagers Digital Course
The Big Questions High School Curriculum
The Big Questions Middle School Curriculum
Young Adult Ministry Now Digital Download
Faith In An Anxious World- A 4-week High School Curriculum Digital Download
Talking About Race with Teenagers- Digital Download
We are running out of time, which is what happens when I connect with people whom I enjoy and with whom I feel so much resonance. I am in awe, and get inspiration from you, plus I feel like I get to be authentic with you.
Thank you for being here with us, for sharing so yourself joyfully and selflessly, for your brilliance, for everything that you are doing with young people and for the ministry that you are embodying in the world.
Thank you. I'm so honored to be here with you and to have this truly incredible and joyful conversation. Thank you for all the beautiful work you are doing as well for this show. It's such a gift. I'm so grateful to be here to add to the brilliance that you bring to the world and all that you do. I'm truly honored to be in this space with you.
Thank you. This ends this episode. Remember, great leaders, make great teams. Until next time.
Important Links
About Ahren Samuel Martinez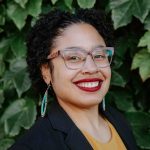 Ahren Samuel Martinez is a Diversity, Equity and Inclusion engagement champion, bilingual advocate, educator, mentor and author. Her passion is working with marginalized teens and making sure they have all the resources and opportunities to be empowered, encouraged, enriched, and supported. Ahren was always taught that "one who learns must also teach." Therefore, she feels it is her duty and mission to work with and empower marginalized youth and communities.
Ahren holds a BA in International Relations with a Minor in Spanish & Latin American Studies from Spelman College, a Culinary Arts Degree from LA Trade Tech College, and an MA in Intercultural Studies with an emphasis in Children at Risk from Fuller Theological Seminary. After graduating culinary school, Ahren was blessed with the opportunity to participate with her chef mentor on a Food Network competition show called The Great Food Truck Race with Tyler Florence. From her experience on that show and within the culinary industry, Ahren has spoken at multiple high school culinary and youth programs empowering young people to follow their dreams whether that is within the culinary industry or otherwise.
She recently co-authored a digital guide on How to Talk About Race, Culture, Power and Immigration with Teens with two of her incredibly talented, gifted and distinguished colleagues from Fuller Youth Institute-Jennifer Guerra Aldana and Kat Armas. Ahren is currently the Diversity, Equity and Inclusion Coordinator at Fuller Youth Institute (FYI) where she is committed to diversity and making sure that inclusion and equity are tracked across race, gender and socioeconomic status. She is also a content creator for FULLER Equip; Fuller Theological Seminary's online learning platform.